badstar
I did the same thing as Gavin today. By now, you've probably seen her post about a devotional hair-wrap as something that isn't easily forgotten about. I used some gold/tan variegated embroidery floss and added one spot to attach/detach a charm.
The charm is the seven stones that I associate with Apollo (Rutilated quartz, Larvikite, Citrine, Iolite, Garnet, Sunstone and blue tourmaline. Here, aquamarine stands in for the blue tourmaline, as it is mindblowingly expensive and the only blue tourmaline I have are some practically microscopic chip beads that already have a sorta-plan for. Aquamarine works- we had some on hand, and hey...Apollo is associated with water, so...yeah. The little spacers are just some copper-metal lined clear glass seed beads that I love. They're very Apollo.
And that's me, totally looking like an evil teenager.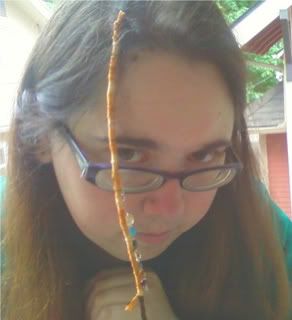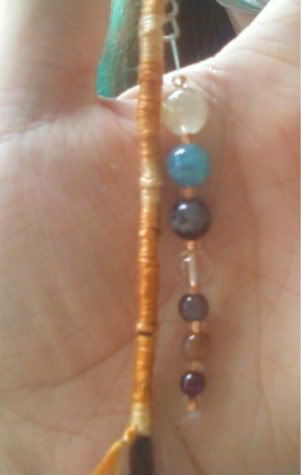 Thanks so much to Gavin for helping and taking the pictures!
This reminds me, I want to do a blog post on the stones that I associate with Apollo.